The idea that a writer ought to write in a coffee shop of some kind has been quite prevalent in this modern society, don't you think? Whenever we picture an author in our mind, for example, the very idea of them typing away in the nook of one dusty cafe might show up in our mind unassumingly.
I, for one, am an example of those stereotypical writer. Although I might add that I don't think writing in coffee shops is particularly cool or on trend, I want to emphasize that most writers, based on my experience, do like writing in coffee shops the best. Discounting the most comfortable writing space which is our own bedrooms, of course. But I digress.
And it doesn't even end at coffee shops. Us writers write almost everywhere. I've watched a Youtube video of a group of writers who spent their vacation writing in an old castle. How amazing is that? Often times, the "writing spot" doesn't even have to be grand or obvious like coffee shops and vintage castles. More often than not, you can find these lovely places in your neighborhood!
In that regards, I feel very lucky. Because more and more people are jumping into this writing-in-hipster-places bandwagon. And it's not even limited to writers anymore.
As a matter of fact, I am writing this blog post in a certain coffee shop in North Jakarta, just right after I finished an appointment with a client. And when I look around, I could see people from different backgrounds and professional qualities who are making use of the facility.
There are no shortages of great cafes or working spaces in Jakarta. I'm certainly not eager to write down every spot I've found, because it would be a very exhaustive list. However, all things considered, here are a few places where I can't help myself but to visit every now and again, every time I need a strike of inspiration to write.
---
***
---
Fillmore Coffee
I found this coffee shop by accident. My friend and I were going on our weekly "Productive Saturday" spree, where we would work on side projects we otherwise couldn't find the time to work on during the weekdays. We were just loitering around Karet area when I fired up a food review app and found this coffee shop by recommendation.
And guess what? The place certainly didn't disappoint.
Fillmore coffee is a small haven near the heart of Jakarta. The space might be small, but the industrial design felt very homey and inviting. The bar table just by the window is my favorite seat; there's no beating the natural light we're getting, plus the greenery that are very pleasing to the eyes. I also appreciate the fact that the desk is slightly elevated on the furthest end, i.e. it's not completely flat. You might think that it's a weird thing to highlight, but the provided elevation actually gives a better viewing angle and armrest whenever you're working with your laptop.
Which… you know… is most likely the most preferred tool for writers to craft their next prose.
By the way, they also serve excellent coffee. My friend and I especially liked their Honey Latte (IDR 42k) because it's creamy and not overly sweet. The icing on the cake is that they give us free flow water, free of charge. It feels almost like they're encouraging us to stay at their place and work all day, don't you think?
---
***
---
The Japan Foundation Library
The idea of writing in a library might not be a new one. But I've noticed that people don't go to libraries that often anymore, especially once they finished their thesis / dissertation post graduation. And the thought of libraries being out of trend saddens me tremendously.
While some of the more popular libraries tend to be overcrowded by college students, I like The Japan Foundation Library for its quietness.
I don't know about you, but there's just this productivity threshold that I can seem to always surpass whenever I work in a conducive environment. Not only do I usually achieve higher word count, there are generally less distractions, hence I could go for a longer writing sprint without ever getting enticed by anything else around me.
It goes without saying that working in a library has its own major perk: you get to have a reference book with you whenever you're writing. This is especially handy if you're working on a research-intensive project, and you have to constantly refer to some sort of materials when you're writing. Writing in a library might be the most efficient way to write and learn at the same time.
Unfortunately, like most libraries, The Japan Foundation library does not open 24/7. They only open during the weekdays and on certain Saturdays of the month. They open from 8AM – 5PM every working days, and only to barely past noon on Saturdays. This limits our access, of course, and we are forced to find another place to haunt during the times the library is out of service.
---
***
---
Food Court, Puri Indah Mall
I know. How very uninspiring, right?
As a matter of fact, this is the place where I wrote the first draft of my debut novel, 3 (Tiga). I still remember anchoring myself on one of the tables, pulling out my dated COMPAQ laptop, and started typing away. The place was far from quiet, and they usually have live music every other night, so things could really get out of hand if you don't bring a noise-cancelling ear piece.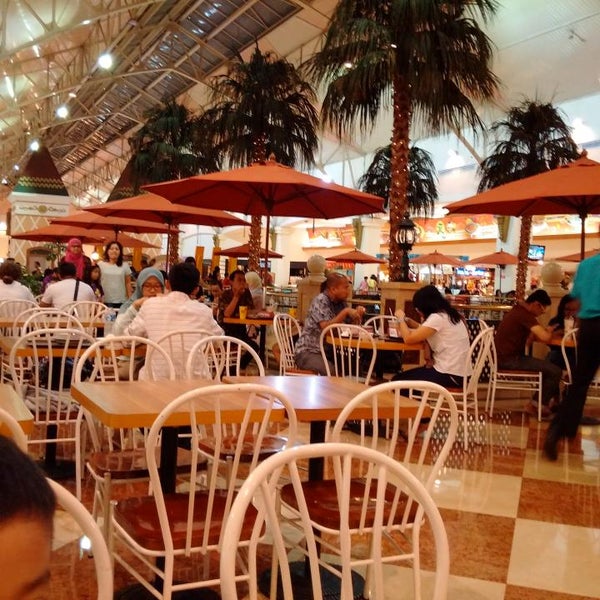 I like to take one of the tables that has these umbrellas canopying them. Not that I particularly need one to shield myself from the sun, of course, since the food court is entirely indoor. But I just find the slight shade provide a sense of seclusion for me, which in turns boosts my productivity substantially. You know, the illusion that you're in your own space, even though—obviously—it doesn't get much more communal than a food court.
Another thing I love about the place is that because it isn't run by any single tenant, we can just order drinks and stay for as long as we want. Sure, some people might stare, but there's no specific prohibition for staying as long as you can. And as long as you can endure the judgmental staring, you'll be surprised by how productive you can get here!
(By the way, the shades from the umbrella / parasol thing somehow wards people away from the tables. I'm not entirely sure why, to be honest. My point is, you'll get much less disapproving looks if you stick with the umbrella tables.)
---
***
---
I know the list could go for much longer than this measly top picks, but I know I won't have the time (or energy!) to cram everything into a single blog post. However, these are the few places I can't help myself but to visit again and again in my direst need of inspiration.
Something from Fillmore coffee urges me to work more. Something from The Japan Foundation Library encourages me to do more research. Something from the Food Court, Puri Indah Mall, shelters me so I can write more productively.
There should be more places out there I haven't visited yet, so I'll be counting on your recommendations if you have any. I'm always eager to bring my writing gears to a new place. You know, so I could try out and see if I could be productive there. And by writing gears, that usually means my laptop, my eyeglasses, and my ear piece.
I'm aware that many of my readers also live outside Indonesia. In which case, please kindly drop some comments and recommend places in your neighborhood where you feel like it could be a decent writing spot. I would love to one day visit your country and try writing on the place!
---
***
---
I will be posting new content every Saturdays, be it writerly stuff, or just things that I like to write about. This includes my own stories, information about my books, and things that interest me. Keep yourself updated by following me on Twitter and Instagram.
---
Where to find
Goodreads | Gramedia | Bukabuku | Parcelbuku | Grobmart